1st August 2006 – Part II
Next on our list of places to visit was Batuan, home of the distinctive black and white paintings that depict scenes of daily Balinese life. It's an art movement that started in the 1930's which was more or less confirmed by our guide at the gallery where we had been deposited who explained how his parents had taught him this style and his parents parents before. He talked us though the process of creation and we watched an artist at work. There is nothing like seeing an artist at work to make you think 'Mmm I'd like that' (and that's why I have a Nicaraguan weaving taking up vast amounts of space in my cupboard), but the little stickers in US dollars on the corners of the painting were at best extortionate. "Oh, those are gallery prices." Our guide explained. "Here we have discount 60%". Uh oh! Those words trickled into my brain and I began imagining what the pictures would look like in my new lounge. Of course I could have picked one with just the hairy old barong in it. Or I could have picked another one with no background, or no foreground, but I picked one with both and my small but detailed Batuan painting was the most expensive of the lot I had arranged around me on the floor, not to mention that I wasn't even thinking about how it would fit into my rucksack.
Next stop was the craft market at Sukawati. It was an indoor market where the preferred way to get a customer to distinguish one sarong out of the hundreds and millions displayed there was to block said customers path with it. Kim bowed out and left me and Estrella to it and like the hardened marketeers we were we emerged breathless and emboldened a few minutes later clutching our masks and cat shaped coat hook.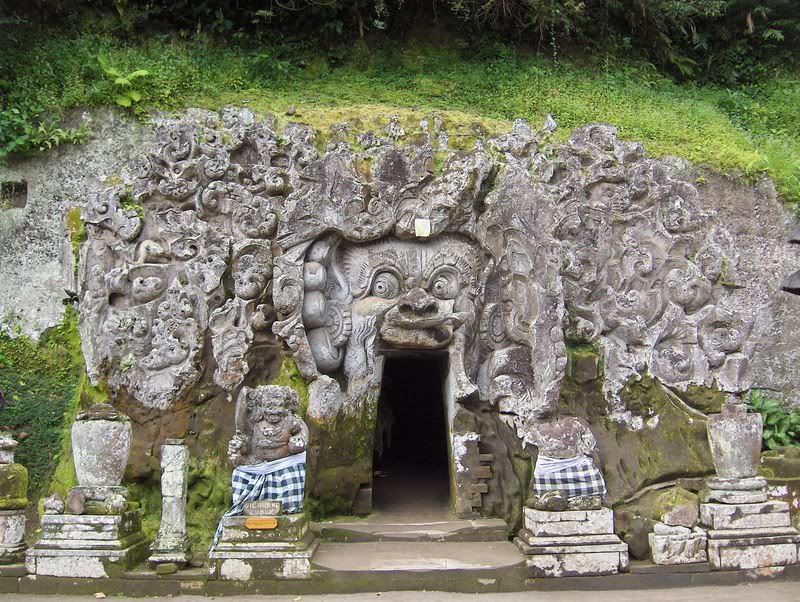 After vital refuelling stop no.4 was FINALLY Goa Gajan, or the Elephant Cave, so called... well couldn't exactly work that one out. Maybe the carved entrance could be an elephant, but not really. Maybe it's because there is a Ganesh statue inside. There were some other bits and bobs in there too: a lingam, a yoni and some stones representing the elements and it was all very holy, but being a wee bit heathen I can't quite remember why. We then lent on the wall overlooking the bathing pool with the enormous boobied lady fountains and wondered what lay to the south. You see the LP said we had to do some clambering and after the 1001 steps of the day before none of us felt like 'clambering' so we tootled back off to the car to be taken to Gunung Kawi.
Gunung Kawi is described as the place where you find these amazing candies (shrines) carved into the cliff face. Now cliff face suggests steep descent doesn't it? Not to us, we were most surprised to find that we had to go down through a town, and then down through some paddy terraces, and then down again. It was all very pretty and all, but I just couldn't stop thinking that in this case what goes down must come up later. However... when we got there it WAS pretty amazing. There are those shrines poking out from the forest with a river gurgling below and a temple opposite.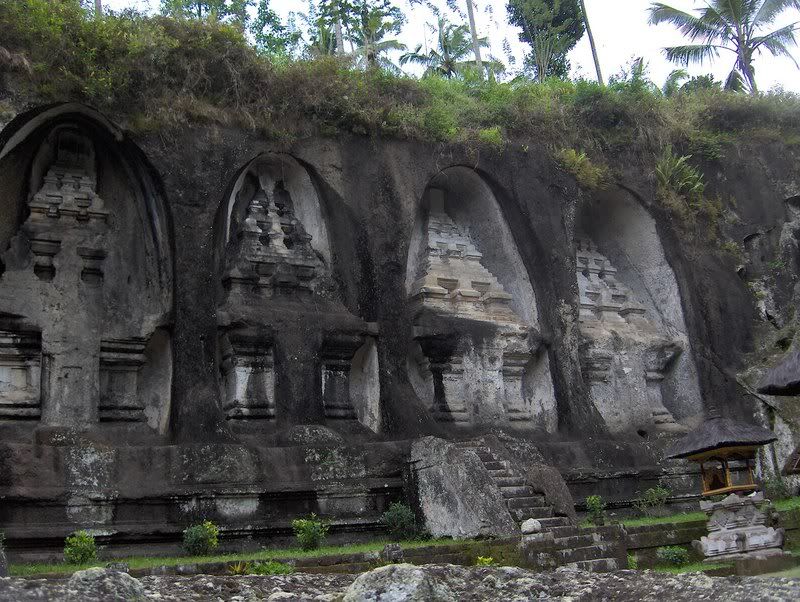 And finally to end our day of Balinese art and culture (with a wee bit of shopping thrown in) we decided to go to a shadow puppet show. I can't remember when I first became aware of those delicately thin puppets with lace like designs, but I was definitely into them by the time I was eighteen and watched proudly as my little troupe of five year olds performed their own rendition of the Teddy Bear's Picnic behind the screen my Dad had made.
The Balinese version is slightly more complicated and highly religious. It's only recently that the Palang (puppet masters) have begun performing them to tourists. There is a set list of characters; good versus evil (that old tale again) and the shows can last up to three hours long. We didn't quite last an hour. In retrospect I suppose something of this significance was never going to be performed in its true sense to a bunch of tourists, but the crude jokes were just too much. We laughed politely at first, but as the audience gradually trickled away we joined the flow.
The night before we had discovered this little side street where all the paving stones have inscriptions dating from 1979-2003; as well as the decorative paving it was remarkably free of dogs, tourists, touts offering 'transport' and flashy restaurants. We had our cheapest and best meal ever and I finally began to get some crucial vocab: Ikan – fish, terima kahsi – thank you. Oh and the onion rings were good too.
Bloody Blogger. There are meant to be more photos with this post, but I can't upload them. Will try again sometime soon. And I thought switching to beta would make all this easier... (shakes head sadly from side to side and sighs loudly).