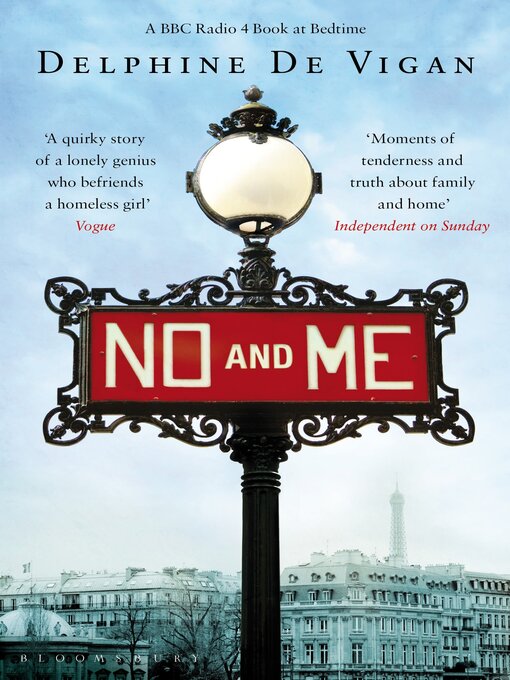 Title:
No and Me
Author:
Delphine de Vigan
Published:
Bloomsbury, 2010
Synopsis:
Lou Bertignac is a thirteen year old, gifted child with an IQ of 160. She wonders about many things such as the base ingredients of frozen food and which way your tongue goes when you kiss. She wonders about all the people who are getting on trains and off trains at the Gare d'Austerlitz, until one day she meets No, a young homeless girl.
Star parts:
Now as embarrassing as this is after ten years, I was reading this in translation. A good translator can make or break a book. So, first gold star goes to George Miller who did a stellar job. In English there is no formal and informal address, yet Miller managed to get formality across in the translation and where things just wouldn't work, he used English references. Great job.
Now onto the book, I loved Lou. There we go, I'll just get it out there. I loved that she asked
all
those questions; that she explained how her ideas whizzed around so fast that she couldn't express herself properly; that she couldn't get her shoelaces done. I loved her because her little voice was just so strong and clear. And she made my heart bleed when she reflected on the relationship between her mother and her.
The next good point was that homelessness is a tough subject and yet de Vigan didn't pretty it up. I don't want to give too much away about the ending, but it could have been all a fairytale, but it wasn't and that was part of what made the characters of No, Lou and Lucas so real. The family relationship is also painful, particularly that of Lou and her mother and again it was dealt with realistically.
OK, the ending wasn't all down and miserable, and do you know what? I liked that too, because I wasn't expecting it.
Black clouds:
I finished reading this a couple of days ago and I've been thinking and thinking, but I can't think of a single thing I didn't like about it. I found the Paris I know and love in this book, with the villages of 'Quecha' tents that were handed out to the homeless a couple of years ago. I wonder if this book transfers as well because it is so steeped in Paris. I know about everything Lou mentions. Sometimes she mentioned a place name and I could see myself there. So, I do wonder if it works for those who don't live in Paris, or have no knowledge of Paris. It would be interesting to know.
Do I recommend it:
Totally and whole heartedly. In my bid to read more French literature, I read everything that I see in translation (I'm lazy!) and this and
The Elegance of the Hedgehog
are top reads. They are classed as adult reads over here, but having read both, and as both have a teenage main character in it, I think they could both easily be YA/adult crossover. (I know this is a review for No and Me, but I just LOVED
The Elegance of the Hedgehog!)